Welcome to www.poormanstiffany.com!


We specialize in carnival, opalescent and art glass from all eras! There are other lovely items to purchase here also! Make shopping for friends and family easy by doing it here! Whether it is a holiday or a birthday... let us help! Find your Fenton glass and other items here among our pages!

We offer fast, FREE SHIPPING WORLDWIDE!


Like us on Facebook so you don't miss out on our offers and news!!

We feature an item regularly.
Our current featured item is a fabulous piece of antique Northwood Carnival Glass!
Here is an OUTSTANDING and RARE Peacocks plate in SMOKEY LAVENDER! Absolutely STUNNING!!
Impossible color to find in these! It's a beauty!

You can buy it with Free Shipping - Click the photo below and see more photos, then click Add to Cart!

READY TO ADORN YOUR COLLECTION WITH PRIDE!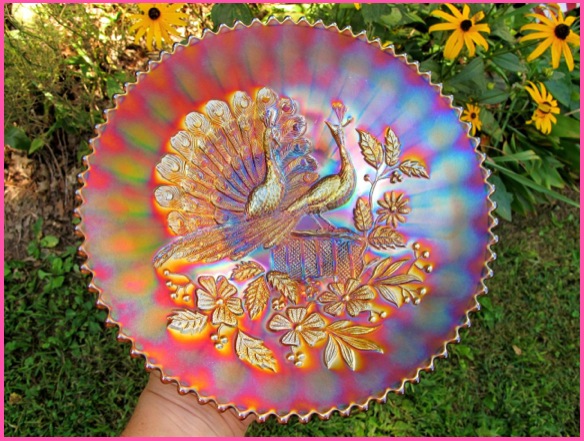 We accept credit cards, domestic checks, postal money orders and bank transfers.
5% discount for U.S. purchasers who pay with a money order or check!!! If you'd like to take advantage of the discount, please call or email me with your order as the "Add to Cart" button can only be used with a Paypal or credit card payment.

We've been collecting carnival glass (and art glass) for more than 20 years and selling to collectors on eBay, at conventions and in antique malls for 13 years.

Our goal is to provide an optimum selection for all levels of collectors! For carnival glass, we will at all times offer pieces by Northwood, Fenton, Millersburg, Imperial, and Dugan. Others include U.S. Glass, Eda, Rindskopf, Riihimaki, Fostoria, Cambridge, Westmoreland, Brockwitz, Inwald, Jain, Sowerby and Walther. We also offer outstanding enameled and/or iridescent art glass including, Loetz, Moser, Rossler, Mt. Washington, Webb, Zellique, Vandermark, Levay (Levi), and Bohemian, Czech or French in origin! Now we are also offering cameo art glass by Kelsey Murphy!

Let us be your source for beautiful glass!

Samantha Prince
eBay seller id: s-prince



Notes

Many of you have bought glass from us on eBay and are possibly wondering why the need for this website.... eBay's new fee structures are becoming cost-prohibitive, and by offering you items directly we're able to pass the savings onto you and even offer FREE SHIPPING WORLDWIDE. Also, it's time to give people an opportunity to buy glass that they want without waiting for an auction to end.

Our glass prices are determined based on rarity, color, condition and, with respect to carnival and iridescent art glass, quality of iridescence.

We welcome inquiries and orders via email or phone 386-227-6482 (Please leave a message if you don't get me when you call). The Contact Us link is at the bottom of the list to the left!

Please contact me if you'd like to use a form of payment other than Paypal. We gladly welcome your check or money order and even give a discount for using them!

We have an extensive amount of carnival glass, as well as art glass, and will be posting more offerings as quickly as possible, so check back regularly OR add yourself to our New Items Notification Email list by clocking on Contact Us!

If you're looking for something in particular, don't hesitate to inquire! We just may have it!

IN ADDITION, contact us if you have a collection, or pieces from your collection, that you'd like to sell! We buy primarily from collectors!